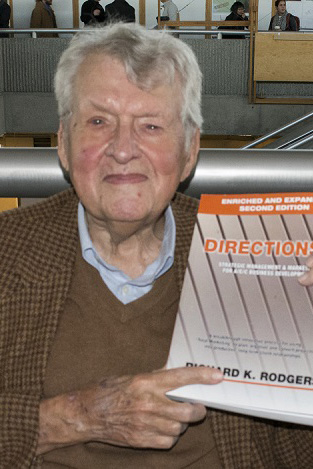 Richard K. Rodgers
Job Title: Part-Time Visiting Associate Professor
Primary Email: r.k.rodgers@comcast.net
Website:
Phone: Work: (404) 894-4885
Address:
247 4th Street
Room 119
Atlanta, GA 30332-0155
United States
Bio
Marketing practitioner, consultant and educator, Dick Rodgers has helped introduce the Total Marketing Process in more than 12 business sectors, including Consumer Products & Services, Commodities, B2B, Food Service & Hospitality, Professional Services and Sports marketing – every marketing mode except High Technology and Political.
During his still-active career, he has performed marketing and management engagements for four major airlines (American, TWA, Pan American and KLM), Campbell Soup, Coca-Cola and Coca-Cola Enterprises (1960-date), Eli Lilly, General Foods (now Kraft), Kroger, The Home Depot, Honeywell, KFC, Pizza Hut, National Restaurant Association (through which he first introduced The Marketing Concept to the U.S. restaurant industry), Texaco, Georgia Forestry Commission, Blue Cross/Blue Shield national and local plans – many more.
Pro Bono clients include the AMA Council on Foods & Nutrition, U.S. Department of Defense Natick Laboratories, Georgia Tech Athletic Association, Michigan State University Housing & Food Service Department, U.S. Navy Recruiting Command, The Salvation Army, and SAF-Society of American Foresters.
His Georgia Tech relationship began in 1984 as Guest Speaker for a Consumer Behavior class case study of MSU's Food Ecology Program for which he had been Coca-Cola's development consultant. Student response was so favorable that repeat presentations generated a faculty request to innovate a new marketing course of his choosing: MGT 4803/8403 – Strategic Retail Marketing.
Mr. Rodgers' 1998 Op-Ed piece for the Atlanta Business Chronicle on realities for marketing Atlanta's Underground caused COA Dean Thomas Galloway to ask him to develop a new course: ARCH 8841/4841 – Marketing Architecture & Engineering Services, the first such course of its kind in U.S. A/E/C higher education.
Insight gained through exposure to A/E/C since 1998 has led to his new marketing test/workbook: DIRECTIONS – STRATEGIC MARKETING FOR BUSINESS DEVELOPMENT. Focusing heavily on A/E/C in the first edition, the text actually supports the marketing of all professional services, as did his earlier (1992) marketing text/workbook: MARKETING LEGAL SERVICES.
A 1952 graduate of the University of Illinois (Urbana), B.S. in Advertising, Mr. Rodgers did additional graduate study at the UI and in the University of Chicago's Downtown MBA program. He operates his consulting practice, The Kelley Rodgers Group, from Atlanta.
Affiliations