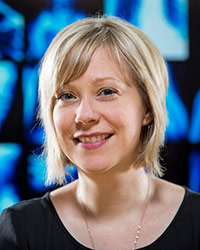 Lauren Wilcox
Job Title: Assistant Professor
Primary Email: wilcox@cc.gatech.edu
Website:
http://laurenwilcox.net/
Phone: Work: (404) 894-4995
Address:
237 TSRB, 85 Fifth St NW
Atlanta, GA 30308
United States
Bio
Lauren Wilcox is an assistant professor in the School of Interactive Computing at Georgia Tech. Her research focuses on enabling people to cultivate a more informed relationship with their health through human-centered technology. Professor Wilcox investigates how interactive technologies can be designed and developed to facilitate personal health-related information awareness and understanding. Thus far, she has addressed digital communication of health status and progress information from two complementary perspectives: those of hospital clinicians as well as patients, to discover how technology can be designed to foster patients' participation in their own healthcare
Through a Dissertation Award from the Agency for Healthcare Research and Quality (AHRQ), Professor Wilcox's recent work examined the impact of a personal health record infrastructure developed in collaboration with the Department of Biomedical Informatics at Columbia University and New York-Presbyterian Hospital. 
While most of my work focuses on health-related applications, she is generally interested in how computing systems can be designed to communicate information to end users on the status and progress of complex, multi-faceted, and dynamic processes. Professor Wilcox's work employs a research methodology that draws from the fields of Human-Computer Interaction (HCI) and Medical Informatics, to include methods for designing, building, and evaluating technology.
Affiliations