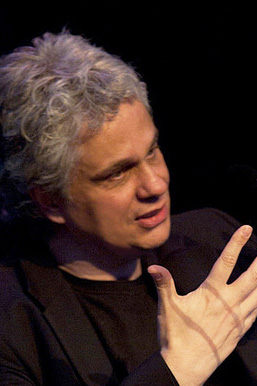 Lars Spuybroek
Job Title: Professor, School of Architecture
Primary Email: lars.spuybroek@coa.gatech.edu
Website:
Phone: Work: (404) 385-1830
Address:
247 4th Street
Room 366 A
Atlanta, GA 30332-0155
United States
Bio
Lars Spuybroek has been researching the relationship between art, architecture and computing since the early 1990s. He received international recognition after building the HtwoOexpo in 1997, the first building in the world that incorporates new media and consists of a continuous geometry. With his Rotterdam-based office NOX he built the D-Tower, an interactive structure changing color with the emotions of the inhabitants of a city (in collaboration with Q. S. Serafijn), and the Son-O-house, a public artwork that generates music by visitors exploring the space (in collaboration with Edwin van der Heide). In Lille, France, he built a cluster of cultural buildings (Maison Folies) in 2004. He published his monograph with Thames & Hudson, NOX: Machining Architecture (2004), and the first fully theoretical account of his work titled The Architecture of Continuity with V2_NAI publishers (2008).
Lars Spuybroek has won several prizes and has exhibited all over the world, among them presentations at several Venice Biennales, the Centre Pompidou in Paris, the Victoria & Albert in London and the Guggenheim Bilbao. His work is part of the permament collections of the FRAC Centre in Orléans, the Cooper-Hewitt Museum in New York, and the Canadian Centre for Architecture in Montreal.
Spuybroek taught at many different universities such as Columbia University in New York, the Bartlett in London, ESARQ in Barcelona and from 2001 to 2006 he was Professor of Digital Design Techniques in Kassel, Germany. Since 2006 he is Professor of Architecture at Georgia Institute of Technology in Atlanta where he held the Ventulett Distinguished Chair until 2011. As Ventulett chair he started the Research & Design bookseries with The Architecture of Variation (Thames and Hudson, 2009) and Textile Tectonics (NAI Publishers, 2011), publications that combine theoretical with methodological research and design.
His latest book (The Sympathy of Things: Ruskin and the Ecology of Design, 2nd edition Bloomsbury, 2016) revisits the aesthetic theories of John Ruskin within the framework of both historical and contemporary thought.
Affiliations