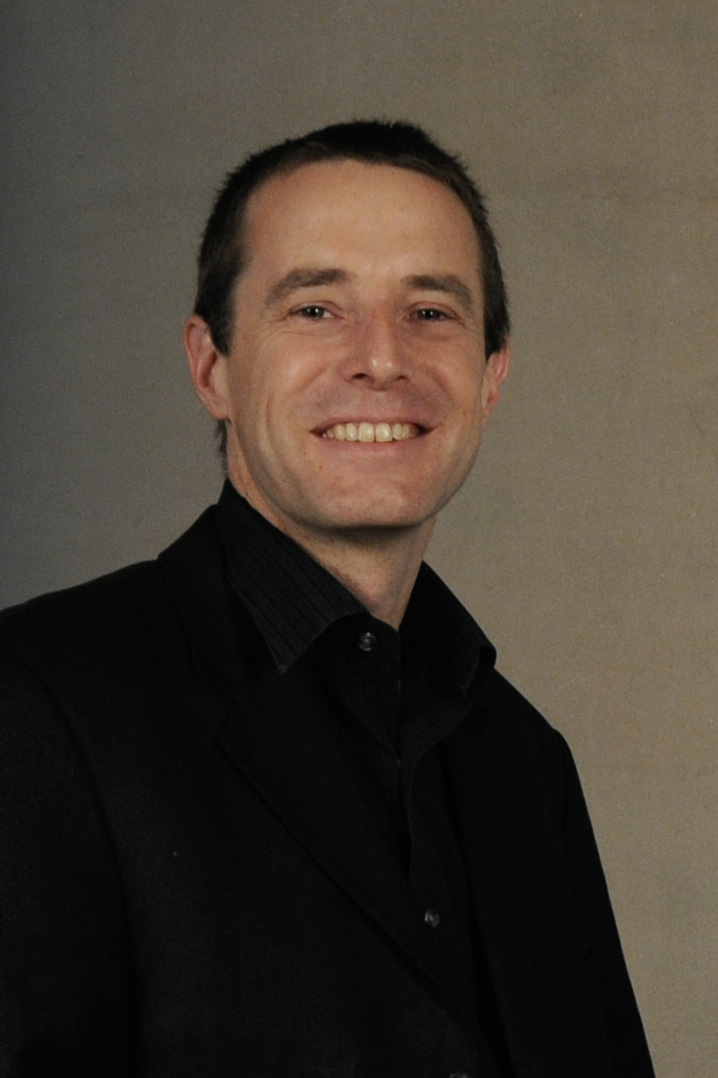 Dennis R. Shelden, AIA PhD
Job Title: Associate Professor, School of Architecture Director, Digital Building Laboratory
Primary Email: dennis.shelden@design.gatech.edu
Website:
Phone:
Address:
United States
Bio
Dennis Shelden is an associate professor in the School of Architecture and director of the Digital Building Lab. He is an expert is applications of digital technology to building design, construction and operations. His experience spans across professorial practice, technology development, research and academia, in multiple architecture, building engineering and computing disciplines.
Before joining Georgia Tech, he was a senior member of Frank Gehry's practice and technology initiatives for almost two decades. He served as Director of R&D and Director of Computing for Gehry Partners, leading the development of Gehry's digital practice from 1997 until 2002.

In 2002, he co-founded Gehry Technologies, a technology development and consulting company focused on bringing advanced design and supply chain integration technologies to the AEC industry. He served as CTO of the company, launched the development of commercial software products and served as Project Executive on many of the world's most recognizable and advanced construction projects.
Concurrently he was an associate professor of Practice in MIT's Design and Computation program from 2005 to 2015, and has held positions at UCLA's IDEAS Laboratory and the Southern Institute of Architecture. Shelden maintains strong ties to academic and industry research bodies. 
Educational Background
Ph.D. in Architecture, Design & Computation – MIT
M.S. in Civil & Environmental Engineering, Information Technology  -- MIT
B.S. in Architecture -- MIT
Publications
Shelden D (2014) Information Complexity and the Detail
Architectural Design: The Detail, Volume 84, Issue 4, pp 92–97.
Shelden D (2012) Networked Space
Architectural Design: Computational Works, Volume 83, Issue 2, pp 36–41.
Shelden D (2012) Building Information Modeling and Professional Practice
Gu, N., & Wang, X. ed. Computational Design Methods and Technologies: Applications in CAD, CAM and CAE Education. doi:10.4018/978-1-61350-180-1
Shelden D and Witt A (2011) Continuity and Rupture
Architectural Design: Mathematics of Space, Volume 81, Issue 4, pp 36–43.
Shelden D (2009) Foreword
Li D, hon. ed., et. al., Computational Constructs: Architectural Design, Logic and Theory, pp7-12.
Shelden D (2009) The Long Awaited Arrival of Architectural Geometry
Journal of Computer-Aided Design, vol. 41 pp551-552.
Shelden D (2009) Information Modeling as a Paradigm Shift
Architectural Design: Closing the Gap, vol. 79 no. 2, pp 80-83.
Witt A, Nolte T, and Shelden D (2009) Large Scale Concurrent Design: The Case of Fondation Louis Vuitton
Proceedings of the Design Modeling Symposium Berlin 2009, University of the Arts Berlin.
Ku K, Pollalis S, Fischer M, Shelden D (2008) 3D Model-Based Collaboration in Design Development and Construction of Complex Shaped Buildings
ITcon Vol. 13, Special Issue: Case Studies of BIM Use, pp. 258-285..
Riese M, and Shelden D (2008) Comprehensive International BIM With Full Owner Involvement
Journal of Building Information Modeling, Fall 2008, pp28-29.
Chair, Legal and Contractual Committee
National BIM Standard, March 7, 2007.
Shelden D (2006) Tectonics, Economics and the Reconfiguration of Practice
Architectural Design: Programming Cultures, vol. 76 no. 4.
Shelden D (2006) Digital Design Environments and Multiplicity of Representation
Shamiyeh, ed., Towards an Interactive and Integrative Design Process, DOM Publications, 2006.
Glymph J, Shelden D, Ceccato C, Mussel J, and Schober H (2004) A Parametric Strategy for Freeform Glass Structures Using Quadrilateral Planar Facets
Automation in Construction, v.13, n.2.
Ramen M, Bein S, Hogan S, Shelden D (1996) Visualizing the Flow: Energy Simulation, Analysis and Engineering of Richard Meiers' Phoenix Courthouse
Civil Engineering, v66-6.
Shelden D, Pena Mora F, Williams J, Mitchell W (1997) The Collaborative Design Studio
Computing in Civil Engineering, ASCE 4th Congress Proceedings, New York: ASCE, 0-7844-0250-7, pp403-410.
Shelden D, Bharwani S, Mitchell W, Williams J (1995) Requirements for Virtual Design Review
Architectural Research Quarterly 1:2: pp80-89.
Cumali Z, Shelden D (1993) Application of Real Time Global Optimization to Building Energy Systems
Proceedings of the ASHRAE Winter Conference, Chicago, Il.

Interviews & Profiles
Joyce E Over the Horizon with Dennis Shelden, Gehry Technologies
Engineering News Record, 11·14·2012.
Weil N 10 Questions for Gehry Technologies CTO Dennis Shelden
CIO Magazine, 03·09·2012.
Minutillo J Behind the Curtain Wall
Architectural Record, 09·2010.
Appelbaum A Frank Gehry's Software Keeps Buildings on Budget
The New York Times, 02·10·2009.
From Blueprint to Database
The Economist Technology Quarterly, 06·05·2008.
Jana R Tools of the Imagination
Business Week Online, 12·20·2006.
Williams A Tech Trends: A New Paradigm For Architecture, Engineering, And Construction
CADALYST Magazine Cover Story, 11·01·2004.
Becker D  Bye-Bye, Blueprint: 3D Modeling Catches On
ZDNet News, 10·04·2004.
Snoonian D New Gehry Technologies Will Enable Many To Boldly Go Where Only Frank Has Gone Before
Architectural Record Innovation Magazine, 1st edition, 09·2004.
Perry T Dennis Shelden: Turning Dreams Into Reality
IEEE Spectrum Magazine, 01·30·2004.
Day M Gehry, Dassault, and IBM Too
AEC Magazine, 09·2003.
Surprises in Mind
Private Universe Project In Mathematics, Harvard-Smithsonian Center for Astrophysics.
Barrow L Designs on Industrial Technology
Architecture Week, 01·08·2003.
Goldstein H 4D: Science Fiction or Virtually Reality?
Construction.com 04·16·2001.
Lindsay B Digital Gehry: Material Resistance / Digital Construction
Birkhauser, 2001.
Dennis Shelden: Bridging Gehry's Designs to Reality
Nikkei Architecture, 2001 3-19.
Interviews in books, documentaries, and articles on Gehry Technologies' and Gehry Partners' work and methods, including BBC, WGBH, New York Times Magazine.

Lectures & Panels (Selected)
Keynote Speaker: Construction as the New High Tech Industry
Associated Schools of Construction Annual Conference, College Station, Texas 04·24·2015.
Information Architecture
UCLA Lecture Series, Los Angeles, 2·24·2014.
Technology, Economics and the Future of Practice
Colorado AIA Convention, Keystone Colorado, 10·11·2013.
Keynote Speaker: Information Architecture
CAAD Futures, Shanghai China, 07·04·2013.
Keynote Speaker: Thinking and Making In A Digital Age
Design and Technology Symposium, Harbin China, 08·27·2012.
Then, Now, Next 2002-2017
Architectural Record Innovation Conference, New York, 10·17·2012.
Concurrent Design / Large Scale Collaboration
USC Conference: Practical BIM, Los Angeles, 07·13·2012.
Big Data: Large Scale Collaborative Design
AEC Technology Strategies Conference, Cambridge, 06·06·2012.
Process / Technology / Design: The Value Of Architecture In The 21st Century
Digital Provocations Conference, Minnesota, 04·12·2012.
Buildings As Complex Systems
Urban Systems Symposium, NY, 05·11·2011.
Beyond Descartes: Emerging Ontologies of Space, Form and Design
The Mathematics of Sensible Things, Harvard GSD, Cambridge, 03·05·2010.
Keynote Speaker: Comprehensive Approaches to Technology Driven Project Delivery
AEC Science & Technology Conference, Washington, DC, 12·10·2009.
Keynote Speaker: Parametric Modeling and Integrated Project Delivery
Design Modeling Symposium, Berlin, Germany 10·07·2009.
Keynote Speaker: Rationalization, Complexity and Emerging Ontologies of Design
Advances in Architectural Geometry, Vienna 09·15·2008.
The Work of Gehry Technologies, Turner Prize Lecture
National Building Museum, Washington, DC, 10·03·2007.
Process and Technology Implications for Contemporary Practice
Digital Craft and Collaboration in Today's Architectural Practice, Virginia Tech, Blacksburg, VA, 09·07·2007.
Keynote Speaker: Building Modeling and Building Controls
Building Automation 2007 Conference, Baltimore, MD, 03·23·2007.
Keynote Speaker: Symposium Series on Technology and Building Process Innovation
RMIT Melbourne, University of Sydney, Queensland University of Technology Brisbane, 10·19-25·2006.
Design Transformations: Towards a 20th Century Framework for Design Computation and Cognition
Key Centre of Design Computing and Cognition, University of Sydney, Australia, 10·23·2006.
Keynote Speaker: Digital Practice
BIPS Conference on Technology and the Danish Construction Industry, Odensee, Denmark, 10·09·2006.
Panelist and Organizer: Changing Practices
AIA NY Technology and Architectural Practice Lecture Series, New York, NY, 6·13·2006.
Keynote Speaker
Construction Specification Institute 50th Annual Convention, Las Vegas, NV,  04·29·2006.
Panelist: Building Information Modeling: Owners, Architects, Engineers & Contractors Confront The Future, Today
Engineering News Record Top Firm Leaders' Forum. Los Angeles, CA 09·28·2005.
Digital Design for Complex Geometric Structures
National Building Museum, Washington DC, 09·07·2005.
Rationality, A-Rationality and Complexity in Design
Non Standard Praxis Conference, Cambridge, MA 09·25·2004.
Digital Project: Expanding the Possibilities for Fostering Change in the Building Construction Process
AIA NY Technology and Architectural Practice Lecture Series, 10·12·2004.
Manifold Grammars: Topological Implications of Generative Design
Design, Computing and Cognition Conference 2004, MIT, 07·17·2004.
Symposium Organizer and Panelist: Building Stata, A Symposium on Digital Practice
Cambridge, MA, 05·06·2004.
Speaker: From Potato Chips to Computer Chips
Museum of Contemporary Art / LA Architect Magazine Forum on Design Innovation, Los Angeles 02·25·2004.
Geometry, Representation, and Design Cognition
Science, Technology & Society NSF Workshop on Visualization & Professional Identity, MIT, 09·18·2003.
Digital Media and the Representation of Design Intent
1st International DOM Conference, Ars Electronica Center, Kunstuniverstität Linz, 03·22·2003.
Panelist: Industry & Educational Transformations Through Technology
ACADIA Conference, Pomona, CA, 10·27·2002.
Managing Complexity: Rethinking Systems Methodologies on Innovative Construction Projects
Design and Computation Lecture Series, MIT, 04·24·2002.
The Physical and the Rational
University of Auburn, Department of Architecture Lecture Series 03·11·2002.
Keynote Speaker
Digital Design: A Symposium with Leading Industry Experts, Guggenheim Museum New York, 07·25·2001.
Keynote Speaker
8th International Conference on Computing in Civil and Building Engineering, Stanford University, 08·14·2000.