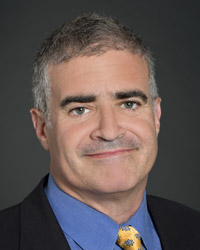 Lance Fortnow
Job Title: Professor and Chair, School of Computer Science
Primary Email: fortnow@cc.gatech.edu
Website:
http://lance.fortnow.com/
Phone: Work: (404) 894-8100
Address:
KACB 3406
United States
Bio
Lance Fortnow is professor and chair of the School of Computer Science of the College of Computing at the Georgia Institute of Technology. His research focuses on computational complexity and its applications to economic theory. He also holds an adjoint professorship at the Toyota Technological Institute at Chicago.
Fortnow received his Ph.D. in Applied Mathematics at MIT in 1989 under the supervision of Michael Sipser. Before he joined Georgia Tech in 2012, Fortnow was a professor at Northwestern University, the University of Chicago, a senior research scientist at the NEC Research Institute and a one-year visitor at CWI and the University of Amsterdam.
Fortnow's research spans computational complexity and its applications, most recently to micro-economic theory. His work on interactive proof systems and time-space lower bounds for satsifability have led to his election as a 2007 ACM Fellow. In addition he was an NSF Presidential Faculty Fellow from 1992-1998 and a Fulbright Scholar to the Netherlands in 1996-97.
Fortnow's survey The Status of the P versus NP Problem is CACM's most downloaded article. Fortnow has written a popular science book, The Golden Ticket: P, NP and the Search for the Impossible loosely based on that article.
Affiliations